Course Description
The OSHA 10 and 30 training provides the basics of occupational safety and health compliance training.  This course covers both the introductory material standard with OSHA 10 hour training, as well as the more detailed content of OSHA 30 hour. The 30-hour portion is designed to "train the trainer" and assist employees in training and introducing employees to the key OSHA practices of identifying, reducing, eliminating and reporting hazards associated with workplace safety.
Course Outcomes: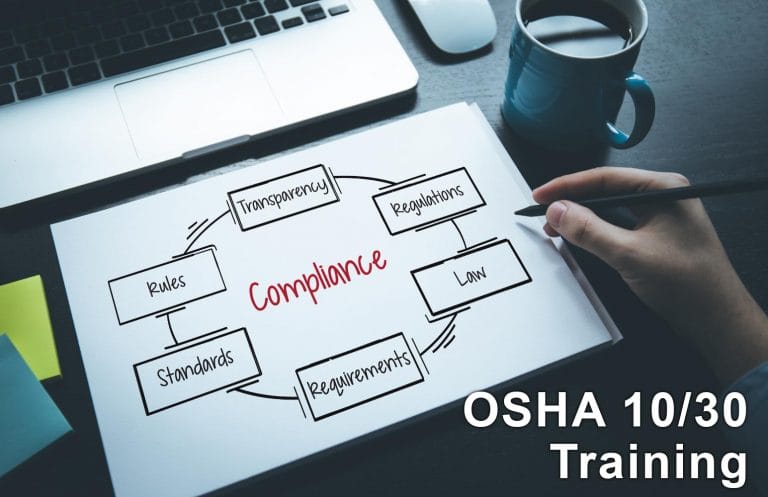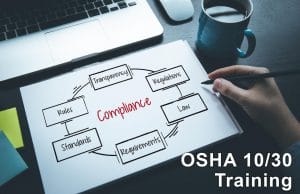 State the purpose of the OSH Act and list the functions of OSHA.

Gain an understanding of the OSHA inspection priorities and process.

Learn the rights and responsibilities of employers and employees under the OSH Act.

Know the basic requirements for proper aisle and passageway maintenance.

Review the guidelines for identification of protection of floor openings

Understand the importance of an effective Egress fire protection program.

Understand safe means of Egress to provide fire protection in emergencies in new or old buildings and structures.

Outline general requirements for general safety standards.

Establish the guidelines and requirements for special purpose equipment.

Recognize the aspects of 1926 Subpart C (General Safety and Health Provisions.).

Sections include:

Labels and SDS

Introduction to OSHA

Managing Safety and Health

Walking & Working Surfaces, including Fall Protection

Emergency Action Plan

Electrical Safety

Personal Protective Equipment

Materials Handling

Hazard Communication

Hazardous Materials (Flammable and Combustible Liquids, Spray Finishing, Compressed Gasses, Dipping and Coating Operations)

Permit-Required Confined Space

Lockout / Tagout

Machine Guarding

Welding and Cutting

Hazardous Substances & Industrial Hygiene

Bloodborne Pathogens

Ergonomics

Safety and Health Programs

OSHA Recordkeeping

Process Safety Management

Asbestos in the Workplace

Scaffolds

HAZWOPER
Why this OSHA 10 and 30 Training Course is Different
This OSHA training course uses historical events and current information to provide real-life examples of the importance of OSHA in providing a safe and healthy workplace. 
Attendees will enjoy an in-person or virtual classroom and an open forum discussion with other attendees.  Your trainer will ensure you receive the required course information, OSHA standards and requirements, all while applying topics and techniques to examples that attendees and trainers provide.  
The course schedule allows for more time to understand the material and how it applies to each work environment.  Upon completion of the course and exam, each attendee will receive their OSHA card.