Course Description
This dynamic training course is designed for the Internal Auditor of IATF 16949 standard. Participants will get an overview of the standard from the auditor's perspective. Valuable additions to the course include case study highlights that compare appropriate requirements to actual workplace situations. The course is designed both to transfer knowledge about the standard itself as well as how to perform an audit of an organization.
Course Outcomes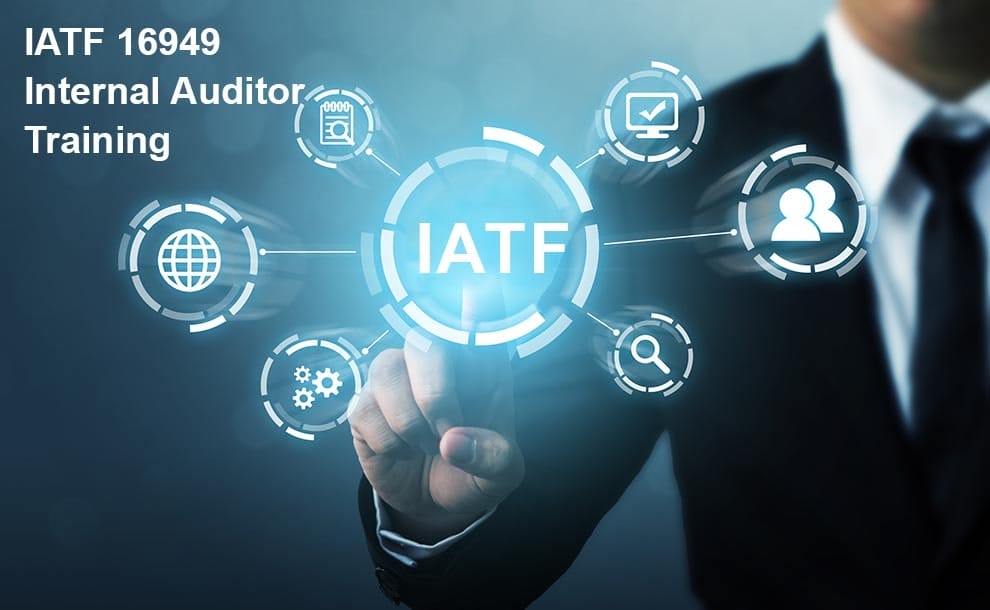 Overview of IATF 16949

Discuss a brief history of IATF and how it came to be
What is and what is not IATF
The PDCA and it's cycle
The Process Approach

How to Conduct an Internal Audit

Preparing for the Audit
Risk based thinking
Basic steps in process approach audit
Internal audit basics
Non-conformance or opportunity for improvement

Section 4 – Context of the Organization

Understanding the organization and its context
Understanding the needs and expectations of interested parties
Determining the scope of the quality management system
Customer-specific requirements
Quality management system and its processes
Conformance of products and processes
Product Safety

Section 5 – Leadership

Leadership and commitment
Corporate responsibility
Process effectiveness and efficiency
Process owners
Customer focus
Quality Policy
Organizational roles, responsibilities and authorities
Responsibility and authority for product requirements and corrective actions

Section 6 – Planning

Risk Analysis
Preventive action
Contingency plans
Quality objectives and planning to achieve them
Planning of changes

Section 7 – Support

Resources
People
Infrastructure
Monitoring and measuring resources
Laboratory requirements
Organizational knowledge
Competence
Awareness
Employee motivation and empowerment
Communication
Documented information
Record retention
Engineering specifications

Section 8 – Operation

Operational planning and control
Requirements for products and services
Design and development of products and services
Control of externally provided processes, products and services
Production and service provision
Identification and traceability
Preservation
Post-delivery activities
Control of changes
Release of products and services
Control of nonconforming outputs

Section 9 – Performance Evaluation

Monitoring, measurement, analysis and evaluation
Customer satisfaction
Analysis and evaluation
Internal audit
Management review

Section 10 – Improvements

Nonconformity and corrective action
Problem solving
Error proofing
Warranty management
Continual improvement

Closing out the audit

Non-conformance process
How to close past audit NCs
Closing Meeting
Why This IATF 16949 Internal Audit Training Course is Different
E&M Design Solutions provides a live instructor—either online or in person. This allows for the feedback gained when going to an in-person class without all the travel and expense. This class is divided into several parts so the attendee can still work their regular job in between classes. This class will give you enough information about the IATF requirements so that you fully understand the requirements and, where needed, apply your new knowledge to implement the IATF standard in the workplace.