Course Description
The basic blueprint reading class will help prepare employees that work in the parts manufacturing industry to effectively read and understand 2D blueprints, engineered, or mechanical drawings in their daily work. Before and after testing is conducted to provide evidence of the knowledge and skill attained by each employee. Physical examples are used—such as small parts, existing drawings, and other items—to help relay the information and to help determine understanding prior to final testing.
Core Content: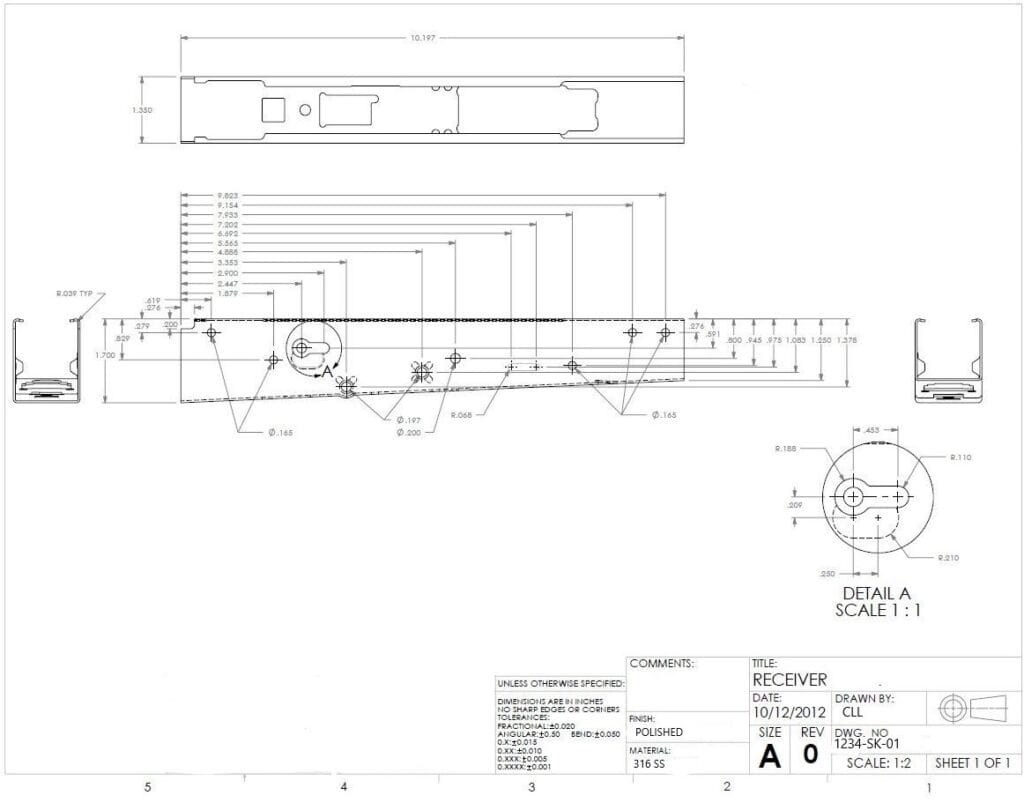 Purpose of a Drawing


Discuss the historical reasons drawings were created, verbal vs written instruction, and things that may need to be shown for the construction of an object.

What do you Need to Know to Draw


Using an example object, we will discuss the things that we need to know about an object to (1) be able to convey that information to someone so it can (2) be made repeatedly as needed.

Layout of drawings


Explain the various objects, Title Block, Notes, Charts, and Table found on a drawing and how they are typically located on the drawing.

Title Block Information


Review what a Title Block is and why we have it, the different components and information that appears on a title block. This includes Company Info, Part Info, Approver and Design info, Dates Issued and Revised, Revision History, Material Specifications, and Standard Tolerances.

Views of a drawing


Discuss the different views that need to be drawn to properly depict an object (Front, Top, Bottom, Back, Sides).

Alphabet of Lines


Review the standard line types that may be used to depict an object and why.

Dimensions and Notes


Review the Elements of a Dimension: The various ways it can be applied and how to apply notes both with and without leaders.

Measuring Equipment


Discuss how to utilize measuring devices when defining the size of a part, review if it was made correctly, or to size mating parts. This includes the use of Calipers, Micrometers, Rulers, and Tapes.

Change Control


Discuss why change control is needed and how revisions are made and communicated.
Why This Blueprint Reading Course is Different:  E&M Design Solutions provides a live instructor—either online or in person.  The instructor relays needed information in a limited, yet sufficient amount of time. It does not require employees to go to school.  The course specifically focuses on reading a blueprint drawing for individuals in the parts manufacturing industry. This focus eliminates the clutter and often confusing information taught in classes aimed at a broader audience.
Requirements: None