Course Description
This AutoCAD training course covers the essential core topics for working with AutoCAD/AutoCAD LT software. The teaching strategy starts with a few basic tools that enable the student to create and edit a simple drawing and then continue to develop those tools throughout the course.
Core Content: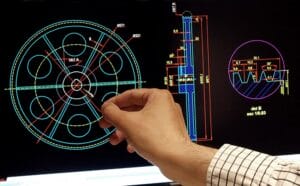 Getting Started with AutoCAD


Learn the AutoCAD interface, how to move around, how to open and close a drawing.

Basic Drawing and Editing Commands


Learn how to utilize basic commands; line, rectangles, circles and erase.

Drawing Precision in AutoCAD


Learn the basic commands for precision in connecting objects; object snap, polar tracking and grid lines.

Making Changes in Your Drawing


Learn the basic AutoCAD editing commands; select, move, copy, rotate, scale and mirror.

Organizing your Drawing with Layers


Learn how to create a new drawing and how to create drawing layers to keep your objects organized.

Advanced Object Types


Learn more advanced drawing commands; arcs, polylines, ellipses, and polygons.

Analyzing Model and Object Properties


Learn the different properties of an object and how to measure and manipulate them.

Advanced Editing Commands


Learn more advanced editing commands; Trim, stretch, fillet, chamfer, offset and array.

Blocks


Learn what a block is, the different types of blocks, how to create them and insert them into drawings utilizing the DesignCenter.

Setting up a Layout


Learn how to work with Model space and Paper space and how to work with the different types of viewports available.

Printing your Drawing


Learn the various methods for printing, how to preview your drawing and how to print multiple drawings at one time, called Batch Plot.

Text


Learn how to create different annotative styles, the difference between multiline and single-line text, spell checking, and how to edit and format text.

Hatching


Learn what hatch is, how to utilize it and how to edit it.

Adding Dimensions and Annotation


Learn how to add measurement dimensions to your objects by utilizing various methods; linear, radial, angular and center marks. As well as how to edit all the features of a dimension.
Requirements: CAD Software
Why This AutoCAD Training Course is Different
This course will provide you with the knowledge that would normally take you an entire semester in most colleges to learn and understand. The class is taught on 3 separate days, with time in between to allow you to practice what you have learned. You can also get feedback on items as needed in the next class. By the end of this course, you should be able to perform the basic functions of AutoCAD. If you wish to learn even more, there is an AutoCAD Fundamentals II course that will take you to the next level.
Learning AutoCAD or refreshing your existing skills can open new doors for you and your career. Having an instructor that is fun, engaging, and ensures you understand the concepts helps you succeed. And knowing you're on a fast-track to learning quickly will help you reach your goals that much sooner. What are you waiting for? Sign up today!